ABOUT ICON STUDIO
awards

The Promising SME 500 Campaign was spearheaded to recognize the exceptional achievements of business men and women in Singapore, highlighting their commercial success and also recognizing their contributions to the economy and the community at large. This campaign also serves as a platform to inspire aspiring entrepreneurs to likewise pursue their dreams and ultimately to create a sustainable entrepreneurial culture in our nation.

Singapore's Outstanding Enterprise promotes and honours our local self-determined entrepreneurs whom possess entrepreneurial spirits, operating small and medium-sized businesses. The initiative is also to inspire Singaporeans, especially our younger generation, to become entrepreneurs by capitalizing their knowledge and creativity which will be useful to our society and valuable to our country's growth.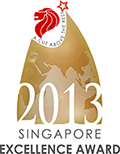 Singapore Excellence Awards A publication initiated by the Singapore Enrich Group, features the inculcation of business owners among the SMEs who had done incredibly well in the breaking through the surreal in life which gave impetus to it's economy..